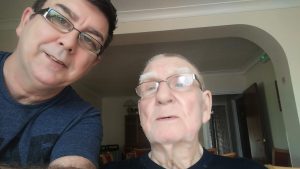 Me & Dad at his care home
Dad has been gone for some time now and, despite that we didn't really get along I am missing him.
Christmas was difficult as was New Year, both as he had been here the year before and the year before that and we had a good time.
Wednesday 15th is the day his flat is sold. It is the last tangible link to him. He never actually lived there, though that was the intention. His dementia suddenly got very bad and unmanageable at home just weeks before the completion of the sale so we instead got tenants in and used the rental income to part pay the care home fees.
It was a very nice care home, Dad wasn't happy there but then, Dad wouldn't have been happy anywhere, that was Dad.
My feelings right now and all over the place and I have been feeling quite down, it's like the final goodbye.
I don't know if you feel like this but somehow I feel different now that both my parents have gone. Sure, part of it is my feeling that it's my turn next, that generational position in the family, I could do without that but mainly it is that my connection with a huge chunk of my past that perhaps even I don't remember properly has gone. Not that Dad, bless him, could have been much help on that front over the last years, he barely knew who anyone was. I think he knew he could trust me at the end (last July) but not really sure who he thought I was yet … there were some days when he proudly introduced me as his son … another sign that the dementia was in control as this is something he would never have done when he was healthy!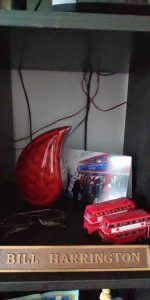 Dad's little memoriam area at our place
His mind managed to resurrect many long since dead relatives, I went along with him mostly except when it was obvious he knew that something wasn't right. It really isn't fair to remind someone that a person they cared about has gone. Pleasantly he had forgotten that my mum had gone and often used to ask how she was and if I could ask her to visit at some point. He said he thought that somehow he had upset her but couldn't remember what he had done. That's really quite sad.
I am confident we made the right choice not to have a traditional funeral. The family is so fractured with so many strong views that we didn't feel the need to go through that. Both Essex and Northampton did there own thing locally for what felt right for us. Thankfully me and my sister were and are in agreement on how things were handled. We had been through a complicated enough funeral when our mum died with two funeral receptions arranged by different factions of the family. This time we had to get it right as we were not going to get another try at it.
For both of us I feel that the sale of the flat was the final closure for us. It is 6 months after he passed but selling was a little trying!
I am very glad he got to meet Dennis a few times in his final years and they got along, that made me really happy. Of course, everyone gets along with Dennis!
End of an era and I guess 87 isn't too bad … had he only not left mentally many years earlier.